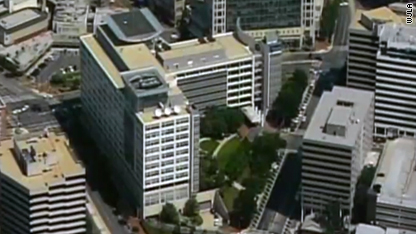 [Updated at 5:03 p.m.] Police officers shot the suspect at about 4:50 p.m., Montgomery County Police Chief J. Thomas Manger told reporters. All three hostages are safe and out of the building.
"The suspect is in custody," he said. Manger said he had no information about the suspect's condition.
A number of devices in backpacks have to be rendered safe, he added.
During negotiations, "he had a wide range of emotions," he said.
[Updated at 3:41 p.m.] A man with the same name and age as the suspect in a hostage situation at the Discovery Channel headquarters in Silver Spring, Maryland, was found guilty in 2008 of disorderly conduct, according to court documents.
James Lee was acquitted of littering in the same case, according to Montgomery County, Maryland, Circuit Court records, according to Eric Nee, a senior assistant state's attorney.
[Updated at 3:31 p.m.] Montgomery County, Maryland, Police Chief J. Thomas Mangersaid the gunman at the Discovery Channel's headquarters is holding hostage more than one person.
Manger said about 3:20 p.m. that negotiations have been going on for nearly an hour, "and we will continue that for as long as we can."
[Updated at 3:17 p.m.] The man suspected of taking at least one hostage at the Discovery Channel's headquarters entered the building's main entrance "wearing what appeared to be metallic canister devices on his front and back," a police spokesman said Wednesday. "He also pulled a handgun out and was waving a handgun."
Silver Spring Police Chief. Chief J. Thomas Manger said police haven't confirmed whether any shots were fired inside the building.
Manger said Lee has remained in first floor area of the Discovery building, where 1,900 employees work.
"We believe that most of them are out," Manger said. "There are a small number of hostages with him."
[Updated at 3:10 p.m.]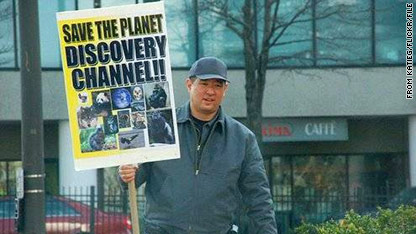 James Lee is seen in this 2008 photo believed to be from a Save the Planet protest outside Discovery's headquarters.
James Lee, the man suspected of taking a hostage at the Discovery Channel headquarters, is an environmental protester who has been publishing criticisms of the network, according to a senior law enforcement official close to the investigation.
An angry manifesto posted on a website called SaveThePlanetProtest.com repeatedly refers to humans as "filth" and demands that the Discovery Channel
"stop encouraging the birth of any more parasitic human infants."
"Civilization must be exposed for the filth it is," the 1,149-word statement says.
"Humans are the most destructive, filthy, pollutive creatures around and are wrecking what's left of the planet with their false morals and breeding culture," it continues.
Lee also blasts immigration, farming, weapons of mass destruction, automotive pollution, "and the whole blasted human economy."
He demands that the Discovery Channel broadcast daily prime-time shows devoted to "solutions to save the planet," perhaps in a game-show format, insisting "Make it interesting so people watch and apply solutions!!!!"
Many of Lee's comments are directed at "the media," saying "You can reach enough people. It's your responsibility because you reach so many minds!!!"
"The world needs TV shows that DEVELOP solutions to the problems that humans are causing, not stupify the people into destroying the world. Not
encouraging them to breed more environmentally harmful humans," the manifesto says.
"These are the demands and sayings of Lee," the manifesto concludes.
[Updated at 2:19 p.m.] The Discovery Channel day care  has been evacuated to a nearby area, according to CNN affiliate WJLA. The day care had about 100 kids, WJLA reported.
[Updated at 2:18 p.m.] The FBI's bomb technicians and ATF agents have been sent to the scene of the hostage situation in a Washington suburb, spokesmen from both agencies said.
[Updated at 2:17 p.m.] Renard Jenkins, who works across from the Discovery Channel headquarters where the hostage drama is unfolding, said he sees the mobilization of a bomb squad and a large armored vehicle pulling a trailer.
"Police are on high alert, positioning themselves behind columns, cars, anything that gives cover. All have their weapons drawn," Jenkins said. "From what we're seeing, everyone seems to be calm."
He said he cannot see into the lobby where the hostage-taking is apparently under way, but can see the activity immediately outside.
[Updated at 2:07 p.m.] CNN affiliate WJLA is reporting that police told them a man entered the lobby and may have fired a weapon and declared, "Nobody is going anywhere."
[Updated at 1:52 p.m.] A SWAT team and additional resources are responding, said Montgomery County police Cpl. Dan Friz. Authorities were trying to get in touch with the man believed to have taken a hostage.
It appears the man has some kind of explosive device on his person, Friz said. Fire marshals with explosives experience were assisting.
[Updated at 1:44 p.m.] The Discovery Channel sent an e-mail to all employees in the building at 1:21 p.m. telling them they "have reason to believe there is an armed gunman at One Discovery Place."
[Updated at 1:39 p.m.] At least one hostage is confirmed at the headquarters of the Discovery Channel in Silver Spring, Maryland, police said.
[Posted at 1:34 p.m.] A police emergency response team was responding to reports of a man with a gun and possible explosives at the headquarters of the Discovery Channel in Silver Spring, Maryland, a police spokeswoman said.
Montgomery County police received the call at about 1 p.m., said Angela Cruz. The call came from One Discovery Place, the channel's headquarters.
The area has been evacuated, Cruz said. No further information was immediately available.