//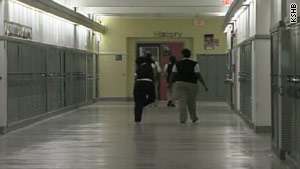 (CNN) — The superintendent of the Kansas City, Missouri, school district on Thursday defended a plan to shutter nearly half the district's schools.
"No one likes closing schools. It's hard. It's tough on families, and it's certainly tough on our community," superintendent John Covington said Thursday.
"Closing schools and making the remaining schools much stronger academically is unquestionably the right thing to do. We were operating far too many schools," he said.
He said the district was only using about 60 percent of the seats in its elementary schools, 40 percent in its middle schools and an even smaller percentage in its high schools.
After weeks of contentious debate and years of dwindling enrollment, a divided Kansas City Board of Education voted Wednesday night to approve what Covington calls the "right-size" plan.
The plan will close 29 education facilities, including 26 schools, according to the district.
Some parents voiced anger. Some students cried.
"I have an 8-year-old and a 6-year-old that will be going to school with 12th graders. I find that very inappropriate. I don't feel my children will be safe," Deneicia Williams told CNN affiliate KSHB-TV.
"I feel like I have nothing, I have no high school legacy. I feel like I have nothing, nothing to go back to," said Prince Jones, a senior, who will be part of the final graduating class at Westport High School.